A story about a prank.
"Disguise" by Rosemary Everson1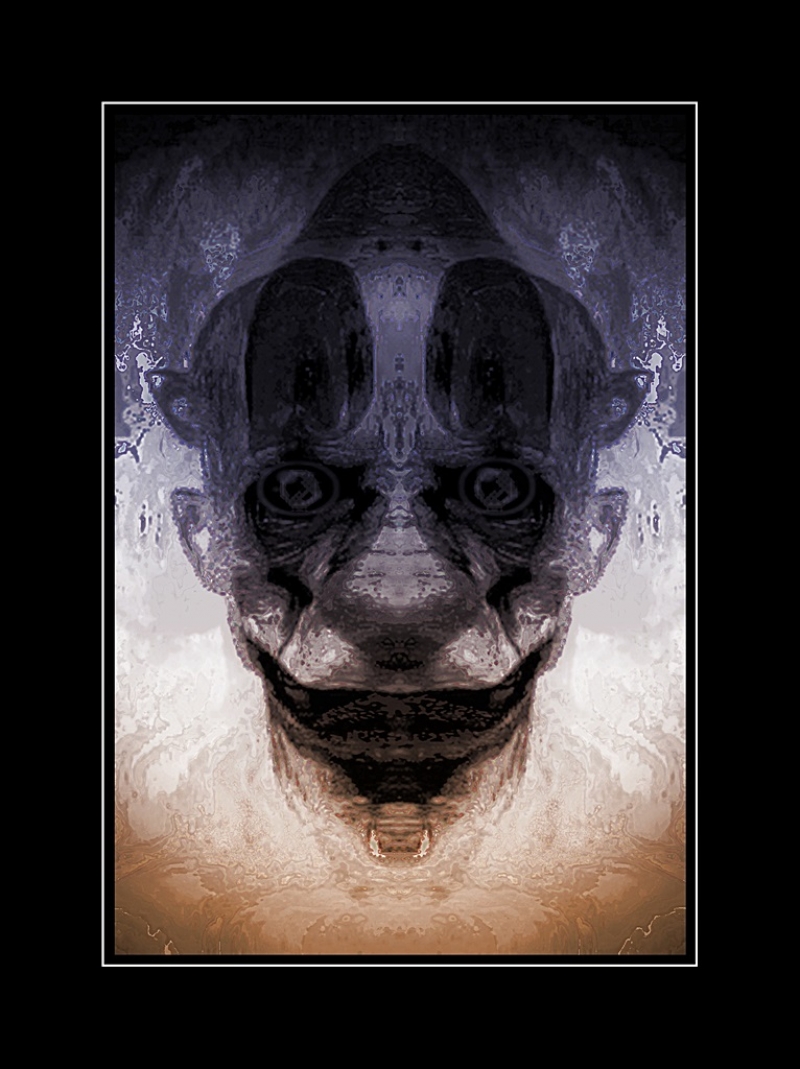 My friend, Dahlia, had just arrived home from an outing. She walked to the garage and opened the door when she saw a mask lying on the floor. Why is this black scary mask lying on the floor anyway?

Oh, she thought, I'll give my brother a scare. She knew her brother would not like the prank she was about to play on him. And Dahlia knew Mattie was caring for their younger sister, so she had to be careful.

Putting on the mask and finding a long black coat, she entered the house. She stood in the entrance hall waiting for her brother to come and see who had entered.

"Is that you, Dahlia?" Mattie yelled from the other room.

There was no answer.

Mattie decided to check. He knew that someone had entered their house; he was expecting his sister to arrive home at any time.

Dahlia was standing in the entryway with her long black coat and scary mask. When she knew her brother had entered the kitchen, she stepped out.

Mattie's eyes got huge; he was so frightened. He stood there speechless. He didn't know what to think or say. Who in the heck are you, he thought?

Mattie looked around to see what he could grab if needed.

He finally asked again, "Is that you, Dahlia?"

Dahlia didn't make a sound. She just stood there, frightened; she knew that her brother was mad at her.

Mattie was furious. He knew that his sister was under the disguise. He started to walk toward her.

Dahlia removed the mask and showed him that she was under the disguise. "I just wanted to scare you," she said. "Don't be angry."

"I thought that was you," he responded. "Don't ever try that prank again!"

"Okay," Dahlia said. "I'm sorry."

Mattie settled down, and went to check on his younger sister. He thought she was sleeping but when he went into the bedroom, he found her awake. She appeared frightened.

Mattie began tucking her into bed again and Kendra asked, "Mattie, would you check for monsters under my bed?"

He looked underneath the bed. Mattie did discover someone looking back at him. It appeared like there was another Kendra under the bed, staring back at him. He started quivering.

Kendra started whispering, "Mattie, is there someone under my bed?"

"Kendra, I'm going to call our mom. Come with me."

Quietly, Mattie grabbed her slippers. He did not let Kendra know that there must be a ghost under her bed. Mattie didn't believe in ghosts, but who else could it be? The person was looking back at Mattie. And she looked just like Kendra.

What should I do, thought Mattie? I must get Dahlia; she must help me.

Dahlia was in her bedroom on her phone. "Call Mom and Dad quickly!" Mattie whispered.

"What's wrong, Mattie?"

"I think I'm seeing ghosts. I saw someone who looks just like Kendra under her bed. I honestly did. You go and look. Seriously, I did."

"Oh, you did not. I'll go check. Keep Kendra with you."

When Dahlia got to Kendra's bedroom, she saw the window was open. Why did Mattie open this window? Then Dahlia looks under the bed and sees nobody. Oh my God, what's happening to this house?

When Dahlia arrived back in her room, she asks, "Mattie, why did you leave the window open?"

"I didn't open no window," Mattie said in a whisper.

"Well, it was open. And there was nobody under the bed. You must have forgotten. Just like the mask that was lying on the garage floor."

"Where did you find the mask? On the garage floor? I didn't put any mask there and I know mom and dad didn't either. Oh my God, is this house haunted?"

Chills went through their bodies. They didn't know what to think. They grabbed Kendra and gave her a hug. And crawled under the covers. Peaking up, occasionally, to check on each other.

The kid's mom and dad arrived home. They came running into the bedroom, "Are you kids, okay? What happened?"

"Mattie saw a ghost. There was someone under the bed that looked just like Kendra. And then when I went to check it out, the window was open but there was no one under the bed," explained Dahlia.

"Well, let's check." When Chose and Select got to Kendra's bedroom they checked under the bed and there was nothing. The window was okay, too. But they did remember the couple who they had purchased the house from, mentioned to them they had felt ghosts in the house, too.

They went back to Dahlia's room and said, "Everything looks okay. We found nothing."

"Yeah, it's just like earlier tonight. Dahlia found a scary mask on the garage floor. I know we didn't put it there. Did you?"

"No, we didn't put it there either," said Mom and Dad in unison. They looked at each other and knew that their kids weren't imagining what they had seen. Was this a prank or what was happening to them?

Chose had said nothing to her husband, but she had seen someone window peeking. The person put their face right against the back window glass. It ran a chill through her body. She thought it would pass but now this had happened. What should they do?

And just recently she had seen footprints in the snow on the one side of their house. She had to discuss this with her husband immediately. The kids really were scared, and they had a right to be.

Were the villains and ghosts, which the prior owners had felt, coming back? She had to give the previous owners a call. Or should they wait until tomorrow and see if anything strange would happen again.

The previous owner's story was that someone had passed away in their house several years ago and the ghost-like presence had never disappeared within the house. So, could someone have worn a mask and that was the mask that Dahlia had found. Not any of them had left it on the garage floor. I must find out! She had heard squeaking and screeching at nights sometimes from the attic, but she hadn't thought anything about the noises.

Tomorrow I'll go up in the attic and see if I find anything unusual.

The next day arrived and everyone seemed all right. After preparing breakfast and eating, Chose cleared off the table and placed the dishes in the dish washer.

Mom told her family, "We're going upstairs to clean the attic. Select you take Kendra with you."

As they walked up the steps, they could feel the squeaking beneath their feet; then, as they stepped onto the top step, they heard a screeching noise.

They got near the attic window, and saw a wire hanging from the rafters. They looked at one another and thought, Oh my God.

Chose walked near the hope chest and opened the cover. There on top was a doll that Dahlia had played with. The doll was in good condition but when Mom picked up the doll, she noticed the eyes started to bulge.

"Don't touch it," Mom said. Quickly she shut the cover.

"Mom, what's the matter?" Mattie asked.

"Nothing," Mom said.

"We saw you drop the doll back into the chest," Dahlia responded. "That doll is the one that I played with for years."

"I know, but I think we should dispose of it," said Mom.

"Dispose of it? Why would you want to?" asked Dahlia. "That doll has many memories."

"Because it's getting old and disabled. The eyes are peering and bulging out of the face," Mom said. "Probably we should go back downstairs and check things out another day."

"Good idea," Dahlia said. "Are you ready, Mattie?"

"Darn tooting, I am, Dahlia. I've had enough of this scary stuff."

So, as they started walking down the steps, they heard laughing from the hope chest again.

"Oh, it's just that doll again. Remember it talks and laughs on its own," stated Dahlia. "Where's Kendra? Did Dad take her with him?"

"Yes, she went with daddy," said Mattie.

"Well, kids. I'm calling the prior owners tomorrow. I'm going to see if they had any of these problems when they lived here," said Chose.

She already knew the other owners felt ghosts here, but she didn't want to tell her kids that until she was positive. She had an idea that they would move as soon as possible. She 'd had enough, too. And she didn't want to put her children through any scary scenarios any longer.

To make a long story short. They made the arrangements to have a U-Haul move them within a week. They were going to the other side of the city; nowhere near the house that they were moving from.

They didn't know who had opened the window, or what really was under Kendra's bed, but Mom knew that the face she had seen in the window was from a spooky ghost-like person who had apparantly left a mark on their cement porch. And it happened in the middle of the night. No more spookiness or pranks for her!

Things could have gotten out of hand. I wouldn't recommend just anybody to do these pranks. Because in today's age, bad things can happen when you're frightened.


Mischief Night Fiction Contest contest entry

Author Notes
This story is about a prank(s). Remember a brother or sister can be best friends to each other. Word Count: 1500+ (I had to revised this story because of the word count.) To explain the characters:
Mom, Chose the same person
Dad, Select, the same person
Dahlia-daughter/sister
Mattie-son/brother
Kendra-youngest daughter/sister
Previous Owners-people who owned the house prior
Kendra's look-like/a friendly ghost


© Copyright 2016. Rosemary Everson1 All rights reserved.
Rosemary Everson1 has granted FanStory.com, its affiliates and its syndicates non-exclusive rights to display this work.