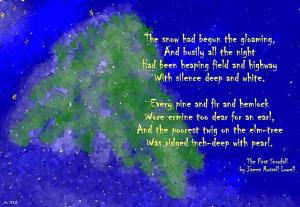 "Near February"
Written on January 19th, 2021
By Doctor Ricky 1024
Copyright �© Fanstory 2021
'All Rights Reserved'

It's nearly February!
And, welcome to the Damned Chill!
What need a "Chill PILL?"
No scarfs, coats, knitted hats?
Or even mittens?
Well, don't be smitten!
And, act just like a little kitten?
...
'Meow!'
What?
You can't stand the cold cat?
Heart Attack?
.
What's wrong?
'Meow!'
Did you lose your fur coat?
Unhappy like a starving goat?
Maybe a little...
"Itchy-Scratchy?
...
We're getting closer and we're getting further away from the sun, hun!
And, each day the snowbirds?
Well, they know when it's going to snow.
And, that's when they got to go!
And, it ain't snowing down there!
...
Snowing?
Let it snow!
Let it snow!
Let it snow!
...
Ain't got the money?
Honey?
To get going?
Can't go down below?
Can't relax in Sunny Flor-I-Da?
Do bad!
And, as for you and me?
"Near February"
Approximate Word Count: 240
Author Notes
Special thanks goes out first, as always, to Heavenly Father and His Son Jesus Christ.
Fanstory and Tom the Administrator.
Fan Art Review, this Amazing Artist and Talented Writer, cleo85'
And, her Incredible Picture Entitled,
"The First Snowfall"