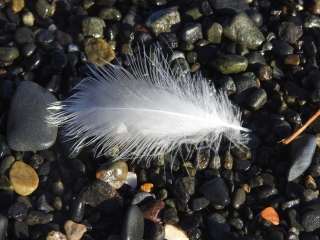 Was it you causing havoc in Heaven?
Was it you floating by on a cloud?
Was it you playing the harp of an Angel?
Angelic music swirling around,
Heavenly notes drifting down from Heaven,
A celestial interlude,
On a cold, damp, mundane morning
I listened in solitude.
Was it you standing at the Gates with St. Peter?
Did you pluck feathers from an Angel's wing?
And gently blow them down here so I would find them,
Swathed in the comfort of what that brings...
Author Notes
Many thanks to alaskapat for the beautiful art work.
© Copyright 2011 Beejay All rights reserved.
Beejay has granted FanStory.com, its affiliates and its syndicates non-exclusive rights to display this work.