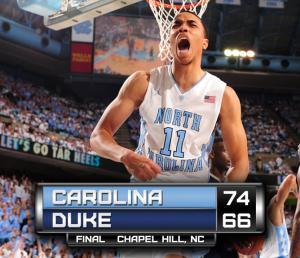 Tobacco Road

The Friday paper, propped against the stoop,
was worth the lean into the gauzy soup
of dawn to snatch the rubber-banded roll
as if a just-discovered ancient scroll.
I scanned the front page, barely half-awake,
but perked at LEGISLATORS ON THE TAKE.

My God, those sons-of-bitches love to bilk
constituents, I muttered, pouring milk.
I checked the market— all my stocks were up
and, toasting luck, I raised my plastic cup
to take a bull-sized swig, for profit's sake,
Of my physique-enhancing protein shake.

I skipped the local section, flipped to sports,
and checked the scores in last night's game reports
to learn results I had to know before
the morning preordained my mood du jour.
The news was good (at least for most of town).
A headline spelled out, hugely:

DUKE GOES DOWN!



The politicians? I forgave their greed
and, for the day, ignored financial need
because importance shifted— Duke got beat,
and loyal Tar Heels bask in such defeat
with sheer elation as our rivals fall
on this Tobacco Road of basketball.
Author Notes
The rivalry between The University of North Carolina and Duke University is one of the biggest in all of sports, and last night in Chapel Hill UNC beat Duke. I just had to write about getting the news this morning.