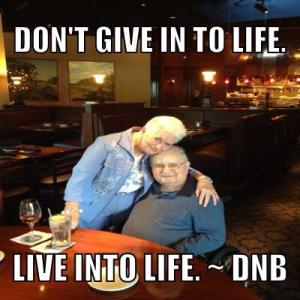 Primary Care

She rises painfully—without complaint—
Head haloed by the silver of her hair,
And as she helps her husband from his chair,
Her shadow drags just like a burdened saint.

She wears the mantle—stooped in silhouette—
Of one diminished by her sacrifice,
Where giving care has been her sole device
To pay the interest on a crippling debt.

Author Notes
This is for my Mom, who took care of my Dad as long as she could after his debilitating stroke in 2001, until I moved back to take over. She's still my hero. The picture is from their 50th anniversary dinner last spring. The meme is something I made on my iPhone with a quote I'd composed.

This is iambic pentameter, in an ABBA CDDC poem. Short and sweet today.