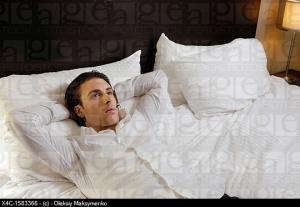 He Lies Alone
He lies alone — eyes on the ceiling fan
Revolving like a clock at triple speed—
Within the rage that plagues an aging man
Who knows his want, too often, trumped his need.

He lies alone — stone cold — with thoughts of her,
And how the warmth she brought is sorely missed,
With damn old Sam — her blasted cat! — whose purr
Would rumble as he watched them when they kissed.

He'll die alone (denial's his companion)
Because he thinks, in time, she's coming back;
But memories, which echo like a canyon,
Still bind him there as if he's on the rack.

He's on his own — a captive, lying prone.
He lied to her, so now he lies alone.