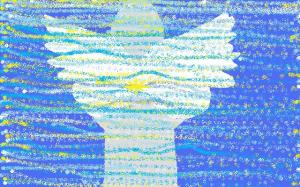 Dear Sis,
During times of struggle and desperation, we often feel we are alone and fail to see the angel that walks beside us. Focused on our darkest hours, we seldom feel the gentle hand that comforts us or guides us. Today, I was reminded and wanted to share my thoughts with you.
Staring into my mirror this morning, a small gasp escaped my lips and a shiver ran down my spine. Those tired eyes, drawn face and wisps of white hair couldn't belong to me; yet, the mirror couldn't lie. Where was the sparkle that once danced in those gray-blue eyes? Or the long flowing blond locks that cascaded over strong, defiant shoulders? When had my youthful face been replaced by this strong resemblance to my grandmother?
Memories, good and bad, filled my thoughts. I hadn't expected a "rose garden" or "life on easy street". Matter of fact, I really hadn't expected anything in particular, just a normal life. Over the years, I accepted life's challenges, enjoyed it's pleasures and played out the hand I'd been dealt without much complaint. Times had been harsh and often I felt the mountain far too high to climb, but I persevered and reveled in the blessings I received. I'd learned life's lessons well and my father's words, "Never say can't", still echo down the corridors of my cobwebbed mind. Through every heartbreak, every loss, every struggle, I plowed forward, knowing I had to be the victor.
In the eyes of society, I've been strong, a super woman. The problem wasn't that I couldn't deal with whatever life brought or even that I thought I'd been given an unfair amount of tragedy. Most said they'd never have been able to walk in my shoes and had no idea where I found the strength to do it alone. There was the crux of the problem reflected in my tired eyes - not having to face the trials and tribulations but having to do it alone.
I watched a tear roll slowly down my face, nestling for a moment among the wrinkles. A familiar sound chirped from the near-by room and suddenly, those thin drawn lips twisted into a smile because I wasn't alone. My hand brushed away the tear and with a spring in my step, I rushed to my computer.
As a familiar voice chirped, "You've got mail", my heart filled with gratitude.
Years ago, by chance, I joined a writing club and met many wonderful people. Though I never got to see them face to face, bonds were made as we shared our passion in writing and our life stories. One Aussie's infectious joy of life burrowed into my American heart and found a home there forever. Regardless of my ups and downs, she always offered me hope, laughter and love. Though she'd never laid eyes on me, she opened her heart and lifted mine. Without a second's hesitation, she greeted me each day with confidence and encouragement. I carried her inspiration, faith and love with me throughout my day, knowing that if I faltered she was only a click away. I'd been blessed with an angel; a special sister that asked for nothing but gave me everything in return. She was the wind beneath my wings when I feared I could not fly anymore.
You are that special Aussie.
With this revelation comes a strong need to offer my paltry thank you. Words seem of such little value compared to the emotions and love you have served up each day, but knowing how deeply they are felt, I offer you my thank you and my never ending love. Never will I ever fear that I walk alone. My heart, my soul, my mind and my computer remind me you are always here, will always be here, and forever our spirits will fly together.
Smiles and hugs,
Writing Prompt
Write a letter of gratitude to a person or persons (no poetry) beginning with a short paragraph stating the kindness that occurred. This paragraph can be in third person, from a narrator's point of view before starting your letter of thanks, or it can be part of the letter.

Be very clear as to what you are grateful for and how it affected your life.

The letter must be in first person.

Author Notes
thank you for the use of your artwork, VMarguarite. this is a contest letter expressing gratitude and thanks for someone very special in my life. Though we use skype and facebook now, I did revert to aol for the purpose of this letter.