Warning: The author has noted that this contains strong violence.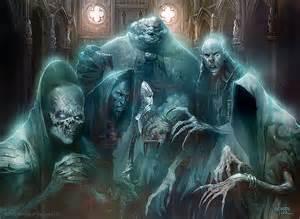 It isn't always easy for me and my kind. Humanity can be so dull. I've pillaged many a mind and found myself near sleep from the boredom. How do I trigger a desire when none is there to trigger? Sure, children are swimming with dreams and desires, but what good are they? What fun is there in ruining the life of a child; they have nothing to lose for they have gained nothing?

You should fear what can enter you unaware. A grotesque, drooling monster at least stands in front of you to deal with. I'm a spirit. I am in all of you. Some call me evil, even deadly. I don't put anything new in your mind. I only remind you of what is already there. You don't have to listen to me. Other spirits might suggest something different than I do. The One Spirit, of course, always has a positive approach. It's your choice who you listen to.

I'm a Devil's Advocate, one of many. Where am I? I'm inside of you. You need only find me interesting and worth listening to, and I will offer my suggestions. It is up to you if you find them to your liking.

The Grangers are doing well. Janice loves Bradford, she truly does. Yes, he is dull and becomes duller every year. But, there are children to distract her. There is a beautiful house and a place in the upper-middle class to enjoy.

Bradford is content and loves Janice as much as he is capable. His capacities are small. He has everything he wants. There is nothing I can find within him to trigger. It's a lonely vessel for a spirit.

The kids are bothering Janice more than usual today. Becka's shrill snotty voice cuts closer to the bone as she admonishes her little brother, Timothy, today. Rebecca Abigail Granger found thirteen to be the age when all knowledge finally coalesced within her eager mind. The burden of Bradford Timothy Granger grew too unbearable sometime earlier this year. An eleven-year-old brother of limited intellect could do nothing but drag down the upward mobility of a skyrocketing social projectile like Becka.

"Just go away, Timothy. Why do you want to go shopping with girls anyway? Do you need a bra? You wanna watch us try on panties, you little perve? What's the attraction?" Becka had discovered the exact tone that triggered the desire to drink in Janice. This is where I enter the picture.

I'm called many things and described many ways. "I don't know what came over me" is a phrase heard often after I have plied my craft. I don't force anyone to do anything. I merely trigger what I find within a person. The Maker gave these people free will. It works as well for me as it does for Him.

Janice retreated to her bedroom and quietly opened her underwear drawer. The fifth of vodka at the back of the drawer had been there over a year. She took it out, unscrewed the top and took a drink. She listened to the argument outside her room. Is that what I raised? A shrill heartless daughter and a dullard boy. Great job, Janice. She took another swig. Why don't they just shut up! I can't take it. I need to have five minutes of peace.

Janice continued to swig vodka. She became more and more distraught as her two children argued. Visions of her father yelling at her in a drunken rage came to her. Bastard! I was just a little girl. She drank some more. The warmth of the vodka flowed through her body now. Where's Bradford when I need him? Unfeeling son of a bitch … how wonderful to be stuck with such a loveless man. A dull loveless man and two horrible kids. I don't deserve this. When is it my time? She took a long drink and enjoyed the familiar sting against her throat.

You see? None of this is my fault. These are her thoughts. I didn't plant them in her head. I don't plant anything, I just make suggestions, like this one: There's a gun in Bradford's sock drawer. Did you forget about it? Yes, it's right there where he keeps it.

Janice opened up Bradford's sock drawer and pulled the gun out. Bradford kept it loaded. Like you'd have the balls to use this, Hubby, if someone broke in. Ha! Why won't those kids shut up! She took another deep drink. The bottle was two thirds gone now. Dammit! They're gonna shut up or I'll shut them up!

Bradford arrived home to find police cars all over his block. He parked the car down the street and walked towards his house observing traffic going in and out his front door.

"Sir, this is a crime scene. We can't let you inside."

"But, this is my house. My family is in there. Wha … what happened?" Bradford strode to the front door and no one stopped him. He looked in to see his son and daughter sprawled on the floor in pools of blood.

Before he could react, he observed Janice sitting on the couch looking bewildered and talking to detectives.

"God almighty! What has happened? Janice, did you do this?" Janice looked at her husband blankly from the couch and returned to her interview.

"Sir? Mr. Granger, I'm going to have you to come outside please. I'm sorry for your loss. This is a crime scene. Where were you today at about two thirty?"

"Me? Where was I? I was at work. I was at work. I don't know anything about…."

"I realize this is a bad time, Sir, but we have a job to do. Now, have you been fighting with your wife? I see she called you several times today. What did you talk about?"

"I didn't talk to her … I had … I had a deadline to reach. I told my secretary to take a message. I told her to tell her I was busy. I should've taken her call. I should've taken…."

"Sir, she called you twenty-three times. Are you saying you didn't talk to your wife today?"

"No, no I didn't. I figured I'd talk when I got home. I thought…."

"How long has she been drinking heavily?"

"She's been sober for three years … she doesn't drink anymore … she hasn't had a drink…."

Officer Dunphy turned and walked inside. He approached the detective questioning Janice. "He doesn't know anything. Stupid bastard, she called him twenty-three times before she did this, probably reaching out. He had a deadline."

The detective turned back to Janice. "We found you passed out on the couch here. You had the gun still in your hand. Are you telling me you slaughtered your own children and don't remember doing it? I need to know what happened here. Has your husband been abusing you? What triggered this?"

"I don't know what happened. I keep telling you that. I fell asleep on the couch and when I woke up; my children were on the floor dead. How can you think I'd kill my own kids?"

I've done my job. Too bad Bradford didn't come home early from work. Well, on to the next one. How about you? Have you been neglected lately … need someone to talk too? I'm always ready to offer my advice.
Writing Prompt
Tired of werewolves, vampires, witches, zombies and the rest of the traditional horror story stars? Let's have a new star. Write a story (not just a description) introducing your new monster and showcasing its horrific powers and nasty nature.

Rules:
1. Only ONE picture, at the top.
2. Only ONE font, of your choice, in standard black.
3. Between 500 and 1500 words.
4. No author notes.