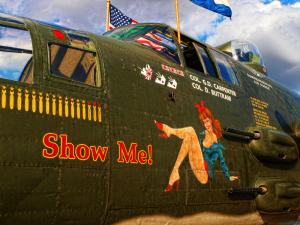 The luscious lady's gaze mesmerizes
The bomber's crew, who with pats to her derriere,
Climb into the cramped quarters hell bent
On keeping the red slippers on her tiny feet
Safe from the Jap Migs strafing skies above
The battle scared waters.
As
The blond bombshell with red bow sits
Seductively on the sleek nose, the B-29's guns
Rat-a-tat-tat across enemy sending flames
Spewing from the cockpit as the Mig dives
Toward the ocean, the bullet ridden
B-29 pulls skyward.
Alas
Our ingenue's memory burns fierce
In brave hearts of the heroic men crewing
Her on that fateful day, yellow devils strafed
The luscious Lolita sending her limping
Home to a small atoll somewhere
In the war ravaged Pacific.