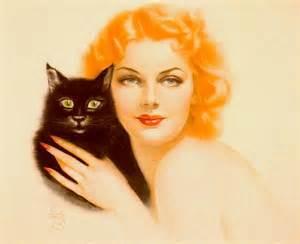 Witchy red-haired changeling, living rightly good,
snuggles her black cat as sweetly as she should.
But come Halloween, she dons her pointy hood.

She descends cellar stairs, looking for her broom,
then renders a tune-up by dim candle's gloom,
clears dusty cobwebs where salamanders loom.

Ancient chants she cackles, down through the ages,
crooked finger turns ancestral tome's pages.
Beauty's gone now while transformation rages.

She fires up the cauldron, bubbling boiled potion.
Dancing crone cavorts, wantonly in motion.
Foul writhing spirits join the fierce commotion.

Ghouls, ghosts, and goblins create mayhem and pain.
The witches and warlocks frolic unrestrained.
With darkness as their cover, chaos does reign,
and all that's good and holy must be constrained.
Marilyn D.F. Boire ~ October 8, 2016
Author Notes
Another witchy poem. Ever wonder what a witch does for the other eleven months of the year? Maybe she lives a normal life next door, but as Halloween nears--she changes. Thanks to Ellen (barkingdog) for the encouragement and thank you for reading my poetry.
Syllables: 11

Artwork: Alberto Vargas, illustration - "Halloween Girl"