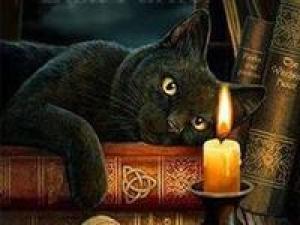 Mesmerized by the candle,
black cat stares into the flame.
He goes by the witch's handle,
familiar -- cat with no name.

He purrs when his mistress calls,
weaves in and around her legs.
He's alert as nighttime falls,
when ghosts writhe in smoky threads.
Marilyn D.F. Boire ~ October 27, 2016
'Bewitching Halloween'
Author Notes
A poem for my book, "Bewitching Halloween." Thank you for reading my poetry.
familiar - an animal spirit guide, in some cultures called a totem.