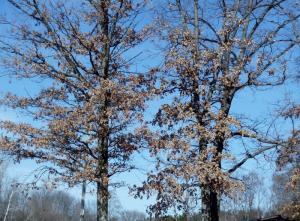 In the garden
surveying all that winter's wrought,
with ground still soft and sodden,
the sky is blue, but trees are bare.
In fact, it looks like autumn.

And yet there's something in the air
that allows the stir of spring,
a tiny sprout that pushes through
or maybe it's the thought of you.
Marilyn D.F. Boire ~ March 20, 2017
'Haiku & Nature Poems'
Author Notes
Today is the first day of Spring. Here in Wisconsin, there are stirrings of the season, but it's slow in coming. Thank you for reading my poetry.
Image: "Bare Trees, Blue Sky" - Marilyn D.F. Boire 2017