A 5-7-5 ~ my garden ~ 2nd place in contest
Haiku and Nature Poems ~ 2012-2017
: My Garden by BeasPeas
I Love... writing prompt entry
'Haiku & Nature Poems' ~ #25-287-B-C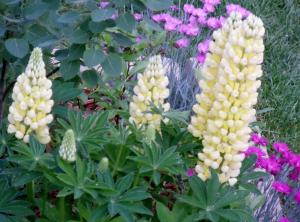 My garden loves me,
flowers compete to impress.
I love my garden.

Marilyn D.F. Boire ~ July 20, 2017
'Haiku & Nature Poems'

Writing Prompt
Write a 5-7-5 poem that includes you - about something you love. See the announcement for details and an example.
Author Notes
Image: Lupines and Dianthus by Marilyn D.F. Boire 2017.
Thank you for reading my poetry.
© Copyright 2011 BeasPeas All rights reserved.
BeasPeas has granted FanStory.com, its affiliates and its syndicates non-exclusive rights to display this work.