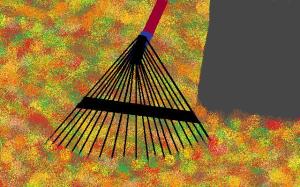 beat-up rusty rake
assembles withering leaves
autumn eulogy
Writing Prompt
Write a 5-7-5! poem with only three lines. The catch is there is a strict syllable count. The first line has 5 syllables, second 7, third 5 again. See an example and details in the announcement.
Author Notes
Thanks to VMarguarite for the art work.

© Copyright 2011 DALLAS01 All rights reserved.
DALLAS01 has granted FanStory.com, its affiliates and its syndicates non-exclusive rights to display this work.