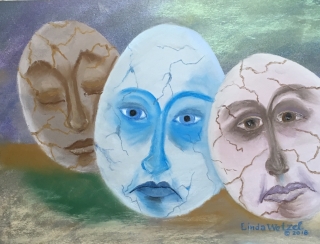 It all began in 1998 when Dad confided to me and my sister that we needed to get Mom evaluated for Alzheimer's. A word that in our family sent up the same red flags, as the big C- word does in other families. Her mom, who had suffered with dementia had lived with us for a few of her declining years. And a flock of unpleasant memories of incontinence, angry outbursts, and poor coping skills came home to roost.

Dad admitted that he had been covering for her for some time. But he could no longer overlook the periodic states of confusion, the numerous times she left the kitchen sink overflow, or her constant repetition of the same questions.

So, reluctantly, it was with fear and trepidation that we made an appointment with a psychiatrist: And a series of lies and reassurances that it took to convince her that it was just a routine medical appointment, ensued. She fought us every step of the way.

On the day of the appointment we weren't sure what to expect. The psychiatrist's office was located in the mental health facility. Mom was still sharp enough to recognize that fact, and she balked at getting out of the car.

After a few more lies, a bit of coaxing, and a ton of guilt, Mimi and I managed to get her inside where the receptionist handed her a rather simple form to fill out. Seated on opposite sides we wedged Mom in between us, and watched in horror as she was unable to answer even the most mundane questions.

Dad's suspicions were to be realized that day.



Author Notes
Thanks to Linda Wetzel for the artwork.