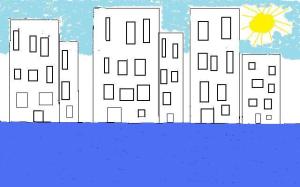 Jadyn sidestepped the spilled garbage oozing from the split trash bags and leaned against the peeling stucco in the breezeway. Evidence of what she might be getting herself into was reflected in the used syringes underfoot. Damn It, why did she wear sandals? What if she got stuck?

Hesitantly, she allowed her eyes to scale the dilapidated building, settling on the third-floor corner apartment. A soiled sheet clothed the window, concealing what waited just beyond.
.
Reconsidering, she turned and headed back to the safety of those who had loved and raised her.

Sorry, Mom. Not up to meeting you today.


Author Notes
Thanks to VMarguarite for the artwork.
© Copyright 2011 DALLAS01 All rights reserved.
DALLAS01 has granted FanStory.com, its affiliates and its syndicates non-exclusive rights to display this work.