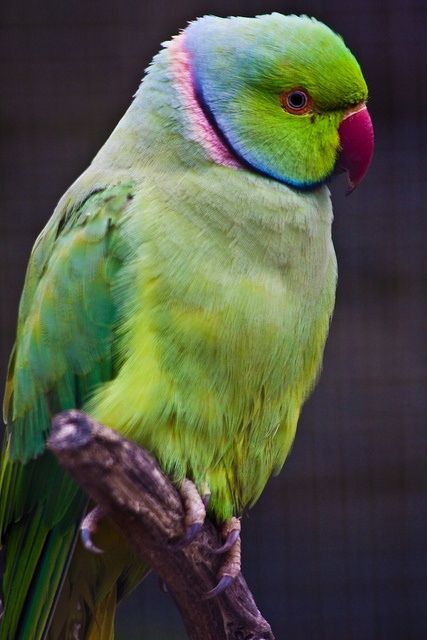 'Ol Redbeak has a song he sings
as autumn leaves hit the ground.
He lives in a cage with a bell that rings;
holding onto bars, he hops up and down.

… Winter feathers are beginning to show…

Teetering on a perch, a neon blue clown.
He scampers to his bowl looking for fun food;
…always hungry… he gobbles it down.
Today--'Ol's in a playful mood.

…Icy breezes spark memories of ancestors long ago…

With a bird's-eye view of the park below--
outside his window, friends fly by,
south for the winter's where they go…
they're gone before he squawks goodbye…

..He's heard tell that birds fly... far away from the snow…

Fleeting sense memory reverts back to tame
fireplace is glowing and his human's over there.
Her sweet soft voice coos his perfect name;
his gilded cage lingers in warm, cozy air.

…So much for what the ancients know…



Author Notes
I wrote a poem within the poem... you can pull the single lines out to make a second poem.

Indian Ringneck Parakeets have become more and more popular as pets in recent years, and for many different reasons. For one thing, these birds are known to be exceptional talkers, with some amassing vocabularies many words that they can speak with amazing clarity. Coupled with their beauty and their medium size, these features have made them attractive companion birds to an increasingly diverse population of bird lovers.