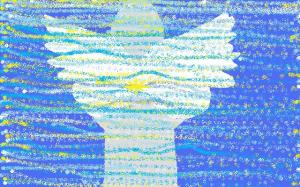 Waiting lounge attached to the ICU of a hospital was a sure stage for Death and Sorrow to do a tango. People waiting with anxiety, hope or fear writ large on their face would have their eyes on the door of the unit which would open now and then to see a nurse or doctor flitting in and out of it. Sometimes they would call out a name and one or more from the waiting group would rush with eyes hopeful that some medical miracle would have changed their beloved's fate.

But we had no such hopes. We were waiting for the smug smile of Death to greet us. My brother was fighting a losing battle with liver cirrhosis. Initial sobbing over, we waited for four days for the moment to come. We watched people leaving and new ones coming in. When bored of sitting in the same place I would walk over to the window to look down on the central quadrangle of the hospital or I would walk along the long corridors and peer into some wards with unseeing eyes. The constant flow of people in and out of different departments were all faceless people. Except for one, may be because she was so very different from us.

She was tall and slender, fair with light brown hair. An American, I presumed (I don't know why). She was wearing a white sari and white blouse which made her stand out from the crowd of colourfully dressed people. But more than anything, her face reflected a rare serenity and I was drawn to it. I kept seeing her everywhere- talking to patients,relatives, and at times to nurses and doctors.

"She must be Amma's disciple", that was my immediate thought. The hospital was run by Amma's charitable trust. (Amma is a spiritual Guru who is generally known as The Hugging Saint. She is immensely popular in the West. Her official name is Matha Amritanandamayi. 'Matha'and 'Amma' both means 'mother' in almost all Indian languages)

On the fourth day our waiting ended. My mother, seeing the lifeless form of her son, who used to be her blue eyed boy sobbed uncontrollably. A brilliant orthopedic surgeon, how could he have fallen prey to alcoholism? My sister in law and her two daughters managed to control their grief. I held mother tightly and try to lead her away when I felt a pair of hands around me. I looked up into a pair of warm compassionate eyes that told me silently that she shared our grief. It was the same white clad 'foreigner' whom I have observed many times these last four days. She spoke softly to my mother holding her hand and said to have faith in Amma's Grace. I nodded, and would have mumbled a thank you for I was not capable of saying anything more.

As I lead my mother away I looked back. She was standing there watching and she gave a slight nod as if saying that I must look after my mother. At that precise moment I regretted not talking to her earlier. I realised what she was doing in that hospital.She was quietly and unobtrusively providing spiritual strength to those who needed it.
My sister-in-law said later that a day earlier The American disciple of Amma had spoken to her when I was not there in the lounge.

Once the post-death rituals and formalities were over I brought my mother to Chennai to live with me.

Years later I joined Fanstory. Since I was not computer savvy, it took me a long time to familiarise with the site. My reviewing and posting was occasional. Once I noticed a name that was very Indian-"Remadevi". Her profile told me that she spends her time between India and US. Her face seemed familiar-a flash in the firmament of my memory. In her reply to one of my reviews there was a reference to Amma and I wrote and asked her where in India she was located. She answered 'Cochin'. She also added that she did voluntary work in Amrita Hospital Cochin.
Then I wrote to her about my brother's stay in the same hospital with the year and month and asked her. "Were you the lady in white who comforted us". She immediately confirmed. Yes it was her.

What a beautiful coincidence to meet her again ( though in a virtual world) as a much loved and respected writer/Reviewer of Fanstory. The patience with which she reads and and writes detailed notes touching every aspect of the poem/story amazes me. She is one of the few reviewers who is not reviewing just to notch up member cents. Her reviews shows the depth of her knowledge about various aspects of poetry and her willingness to impart the same to others. I remember thinking all those years back that she must be a genuine soul with a generous heart to come all the way from her own country to serve people in a totally alien culture. I feel very happy that I have met this great person( though for a few moments)
.
I am posting this because I want all the Fanstory members who already love her to have a glimpse of the kind of work she is doing in India.

A couple of months back I asked Remadevi if I could write about this slice of my life where she featured very briefly and she very graciously agreed.




Author Notes
Thank you very much, V marguarite for this art work.