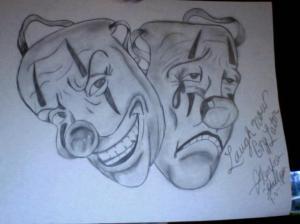 Mister ego,
battles for control of my soul,
dominating the weaknesses in me.

There is no humanity
Only...
I am important, I did that
I am worthy, I am truly great!

Humility is unknown
to this creature that inhibits my mind, causing my spirit to cringe.
What a distasteful waste.

That is not who I am, screams the voice of my heart.
God, save me from this petty person that claims to be me.

This Mr. Ego steps to the front of the line,
all important with a me first attitude.

Fed up, the spirit shines a heavenly light
that tears through the false me.
Mr. ego crawls back into his hole.

Innocent joy smiles once again.

Filling my heart.




Writing Prompt
Write about a time you failed and how it turned into something even better!




Author Notes
AlondraGallegos Thanks foe the drawing. I have struggled with Mr. ego for years. The ego needs to fail for the Spirit to shine. Things are looking brighter as the ego recedes.