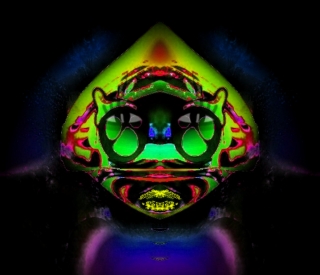 I sit and ponder what to write
Stare up at the darkening sky.
As the evening star takes flight
My imagination wants to fly.

I know it's really not a star
But another world I see.
And my mind wanders far
To that light above the tree.

What creatures might live up there
On that orb reflecting sun?
Are they happily living where
Steaming lava rivers run?

The science guy says it's hot
Much closer to the sun.
Is it horns and tails they've got?
Are they melting starships just for fun?

I see them as much friendlier sorts
Around a volcano toasting s'mores
Maybe dancing and singing while building forts
In case ash and lava pours.

When ash has settled and the sky has cleared
Do they stare up into darkened skies and see
A world where creatures very strange and weird
Might live in a world that's mostly sea?

When the blue star rises do they stay up late
Weave stories of beings on a world cold and wet
And imagining every possible fate
Of the world where their story is set?














© Copyright 2011 Cindy Warren All rights reserved.
Cindy Warren has granted FanStory.com, its affiliates and its syndicates non-exclusive rights to display this work.