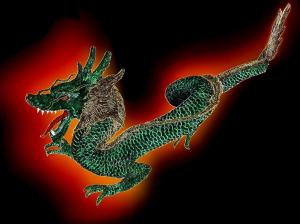 Background
With the kingdom in trouble and a shortage of food, Aaron is protecting his clutch of dragon eggs. The eggs are hatching, and the results are quite challenging.
Aaron guided his horse down the deer trail toward Hidden Lake. After his day with the dragons, he felt the need for some peace. He didn't expect to see any deer, but he'd brought his bow and arrows just in case. Demon seemed happy to be away from the cabin.

Hidden Lake was a small lake, not on any road. It was remote, but not unknown. He hoped for mushrooms along the shoreline, though he knew it was late in the year for them.

As he approached the lake, he heard a commotion in the water. He drew his bow and approached quietly. Demon knew how to hunt.

He had not found deer. He'd ridden up on four men chasing a boy about ten years old. The child was doing everything he could to avoid them, but Aaron didn't like the boy's chances.

"Let him go," Aaron shouted, aiming his bow.

"What you gonna do?" One of the men sneered. "You gonna shoot us all?"

"Let him go," Aaron repeated. "I'll get one of you. One in four chance it's you. Do you want to take that chance?"

"Who's the kid? What's he to you?"

Aaron thought fast. "His name's Duane. He's my page. I sent him to look for mushrooms. Let him go, now! Or I'll let this arrow fly."

As Aaron had expected, they let the boy go. He stumbled toward Aaron. The men slunk off into the bush.

"I'd better get you out of here, kid. What's your name?"

"I am Duane. I am your page."

"Come on, kid. Who are you? If I leave you here, those men will have you again in ten minutes. You know they don't mean you any good."

"I am your page. I will go with you."

"I don't suppose your mama would like that too much. You can't be too far from home. What's the name your folks gave you?"

The boy looked ready to cry. "My folks are gone. Now I am Duane. I will go with you."

Aaron was at a loss.

"Who were you before you were Duane?"

"Dead."

Aaron was losing patience. "You looked pretty lively when I came upon you," he said.

"If I was not Duane I would be dead."

"Kid, look at the sky. There's a storm coming. That will be the least of your problems if those men snatch you up again. You'd better tell me who you are so I can get you home."

The boy's eyes were pleading. Aaron thought he was about to burst into tears.

"OK kid, for tonight you can pretend you're Duane. I can't leave you here." Aaron lifted the boy into the saddle behind him.

"We can't go there," the boy said as they approached the cabin.

"Yes kid, we can. Are you sure you want to be Duane? I can still take you home."

The boy clung to him.

Aaron unsaddled Demon and started to work gathering pine branches to make a lean to for the horse. The boy caught on right away, and proved to be a hard worker. Soon Demon had a shelter from the coming rain.

"Take the reins inside," he told the boy. "I'll get the saddle. You ever work with leather after it gets wet?"

"No."

"You don't want to."

"I will keep it dry," the boy promised.

Sensing the coming storm, the dragons were all inside, but the door was open.

"We have some company," Aaron told them.

The boy looked about the cabin, and at the tiny dragons, with some anxiety, but he made no attempt to run.

Pink looked him over carefully, and seemed to go into a sort of trance. Aaron was pretty sure she was talking to the woman.

"She won't hurt you," Aaron said. "You'll need to watch out for the black one, but we won't let him out till tomorrow. Let's see if we can get our little red friend to get this fire going."

"We are all going to be cold if we don't get a fire going," Aaron told Red. "Let's see what you can do."

Red was co-operative, and soon they had a fire in the stove.

Aaron found a pan and threw the deer meat in.

"You hungry?" Aaron put the pan in the stove.

"Can't you cook?" The boy clapped his hand to his mouth as soon as the words were out.

"It's OK," said Aaron. "Truth be told, I've never cooked anything in a pan in my life. If it's not on a stick over a fire, I haven't a clue."

"That's OK. I will be a good page. I will cook."

Aaron happily handed over the task.

"I'm going to go and get some more," said Aaron.

"I'll go," said the boy.

"You cook. I'll go." Aaron did not want to show him the root cellar.

Minutes later he was back with more meat and several potatoes and carrots, along with a few things he couldn't name. He'd also grabbed his blanket, along with another from the cellar.

"Let's see what you can do," he said.

At that moment Pink came out of her trance. She looked at the boy again.

"Let him be Duane," she said. "He will not betray you."

At that, Duane dropped the potato he was slicing and stared at the pink dragon, mouth open. He had found a pot and set water to boil, and he nearly put out the fire with it. He caught it just in time.

"You can still change your mind if you want to," Aaron told him.

"Duane must be brave."

"You know, I made up that name when the men asked who you were, only because they would expect me to protect my page. You don't have to keep it."

"I will keep it. I will be Duane."

"OK, Duane it is," said Aaron.

The other dragons, who had been watching Duane warily, were becoming curious. The boy had chopped up the vegetables and thrown them into the pot, and added bits of browned meat. The mountain dragon approached slowly, and climbed into Aaron's lap, looking him over.

"I mostly call them by their colors for now, but this one is Mountain. It's a mountain dragon, and it has too many colors to name it that way. The woman says they'll tell us their real names when they're ready."

"Do they all talk?" Duane asked.

"Pink talks the most. There's a water dragon, but he couldn't stay here. He needs to live in the water. He talks to me in my dreams, and he's pretty good. So far the others haven't said much. Pink says they can learn, but it may take some time."

Aaron scratched Mountain's head. "This one is pretty friendly. Come and say hello."

Duane reached out a hand. Mountain rubbed his head against it.

"Seems he likes you," said Aaron. He sat back in his chair, breathing in the wonderful smell of Duane's cooking.

Aaron got up and spread the blankets on the floor. He knew that even with the lean-to, he would not be able to sleep on the ground tonight. He added another stick to the fire and sat waiting for the food to cook.

It was worth the wait. Duane proved to be a competent cook, and the food was delicious. Tired and full of food, Aaron was ready for bed. He checked the eggs one last time, and realized he wouldn't be sleeping anytime soon.

Another purple egg was about to hatch.