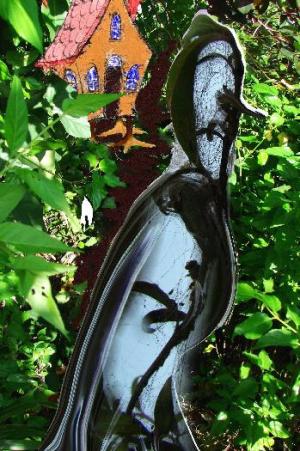 I have always hated Halloween. Pictures and replicas of ghosts, big, black spiders, emaciated women astride broom handles, not to mention my ringing doorbell interrupting whatever activity I've chosen for myself after a day at work. If I dare answer, the greedy little hands reach, mothers behind them wearing expressions of hope that I'll find the little darlings in their dark, spooky, hideous costumes adorable.

I don't.

I handle my distaste by fleeing to my country house, away from the maddening crowd. A remote location, one I chose for just that reason. Yet, amazingly, someone knocks at my door, and I answer warily. Who'd be looking for candy way out here? I wonder, peering cautiously through the barely opened door.

My trick-or-treater is wearing a witch costume, silent, grinning, with blackened teeth. I apologize, I have no candy. "Wait," I direct, feeling embarrassed and somehow obligated to accommodate, running to the kitchen to grab an apple from the fruit bowl on the table. I reach out to give it to her, and my hand goes right through hers.