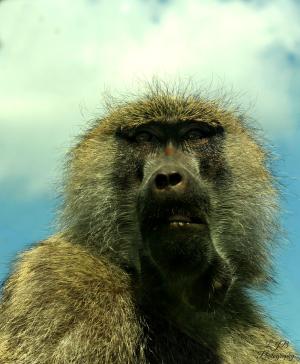 The Ziegelmaeirs arrived in Cape Town in 1992 aboard the ship,Odessa.
They were on a world cruise celebrating their fiftieth wedding anniversary.

I had been asked to show them the sights during their 24 hour stopover.

I picked them up at the dock. After El purchased something from a pharmacy, we set off towards Cape Point.
As hunger set in , I parked by the sea and produced the lunch pack I had brought.

As we continued our journey, Paul noticed some baboons moving behind us. He begged me to stop. Before I could deter him, he jumped out of the car and proceeded to film these apes.

In a flash there were two baboons inside the vehicle.
Short work was made of all remaining edibles.
El and I were quick to leave them to it.


I instructed Paul and El to walk away from the car

A third baboon then jumped off the bonnet of the car towards El. I told her to throw the pharmacy parcel to the ground. This baboon tore the package open. It was not edible. In disgust he slunk away and was then joined by his two mates.

Having imagined a newspaper report of tourists being attacked by baboons, I heaved a sigh of relief as we re- entered the car and made our way back to the Odessa.





Author Notes
Thanks to lilibug6 for the illustration
© Copyright 2011 persevere All rights reserved.
persevere has granted FanStory.com, its affiliates and its syndicates non-exclusive rights to display this work.