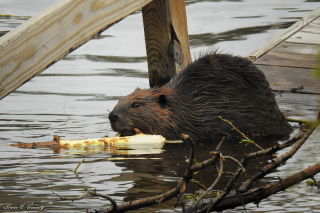 November's Beaver moon hung low in the night sky. Detective Joe Castor reached into the glovebox for smokes and finding none, swore loudly. He hated surveillance in the best of times and under a bright moon, with a gasbag partner, it was too much. If he hadn't been preoccupied with his ruminating, Castor might have noticed the short, quick shadow pass the corner of the house. As it was, he and his partner Bill Sweeney were only alerted by the scream.
Miriam Lattimore lay sprawled on her living room floor; carotid artery jaggedly slashed. She'd bled out in less than a minute. The detectives searched the house and then Sweeney called it in while Castor removed the only apparent evidence: several brown hairs, a couple inches long.
Lattimore was being surveilled because her company, Lavish Furs, was thought to be mob-connected. A snitch had tipped them about a meet that night. Sweeney called into headquarters, then said he'd accompany the body to the hospital. This made Joe smile because he had other plans.
Castor drove onto the Reservation, to see Grandmother. She had once told him that in ancient times, humans and animals used to mate. It is rumored there are still those among us who carry both genes. Joe left Grandmother,
convinced one of his relatives had paid back Miriam Lattimore for her slaughter of innocent beavers-- killed so the whiny rich could have "lavish" coats.
"Serves her right," Castor mumbled.
He went to find smokes.
Writing Prompt
Short Story (Beg/Mid/end) (Create your own title) (250 words max)
beginning with the sentence::

November's Beaver moon hung low in the night sky.


Short Story
Contest Winner
Author Notes
*Beavers belong to the the genus, Castor. There are two types: the North American beaver (Castor canadensis) and the Eurasian beaver (Castor fiber).
**Beavers are the second largest living rodents after the capybaras, which are South American and closely related to the guinea pig. (Information taken from "Online Etymology Dictionary." )
***Beaver coats are still being sold today. Not as expensive as mink or sable, they are popular because they are cheaper and beavers have an "under-fir" that makes the coats very warm. These coats are also naturally waterproofed. It takes about nine beavers to make a coat. (Info taken from "MLFurs.com".)