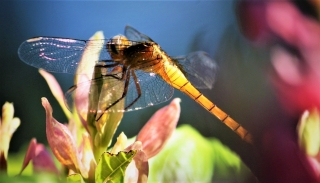 Have you ever seen a fairy or a busy bumble bee?
Or a bright blue, beautiful butterfly?
Go have a look! Do you know all three can fly?

They often hide in the tall, green grass,
Sometime by the waterside
You must be quiet not to scare them,
For they can fly away real fast, out of the grass.

When you are ready to go looking.
Ask a grown-up to go with you.
Be sure and say "Please"!
And you wait for them and never leave.
Unless they are with you,

Wait for them to say, Yes!
You're not a little pest.
Take care of your behavior
Work hard to keep it at its very best
Go and play safely, while running around
Looking for the 'Grass Fairy' along the ground.

Also remember that bees have wings.
If they fly and hit you,
It could sting and will hurt and turn blue.
That could make you feel sick, like you have the flu.

So make sure you go with a grown-up.
So you can play safe,learn a lot and have fun
Until the grown-up says, "Time to go! Come!

Play as long as you can
But don't forget
To also look for the tiny 'Grass Fairy'
Her name is 'Mary'!

Keep looking for she is hard to be seen.
Mary! Looks like a Queen.
She may be sitting in a beautiful flower
Look very hard for Mary!
For she may not be there tomorrow.

"If you find her sing out as loud as you can"!

Bingo!

And be sure to tell all of your friends.

Writing Prompt
Write a children's poem, any length or style about Fairies.
Author Notes
A fairy tale inspired from the art provided by "photo4tu" for which I am very grateful. A poetic fairy tale "farie tale".