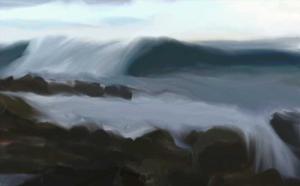 An old couple
wearing fishing boots
staggers into the seafront
storm-bludgeoned bistro,
wet tangled hair
weathered gray,
windbreakers drenched
from slanted rain
and ocean mist.

Hands clasp
steamy espresso cups,
twirl sandy scallop shells
on the wooden table.
They lean into silence,
eager to gossip
forbidden secrets
about the universe,
to repair fishing
nets of tenderness
with words coarse
as mending twine.

They fall silent again,
press chairs together,
gaze at sunset sifted
through haze
and winter showers.
Gray gulls hover,
plunge through dusk,
mist, whitecaps,
arc into fog.

They zip their coats,
bundle together.
Front door rattles,
they disappear forgotten,
battered by wind gusts,
two pieces of rugged driftwood,
bobbing on ocean depths,
waiting to wash ashore
together again
on foreign sand.
Author Notes
This poem takes my earlier poem--Old Couple in a Seaside Bistro--and reinterprets it from a different perspective and mood. Sometimes, a nudge into a different angle or viewpoint changes the meaning of an experience.