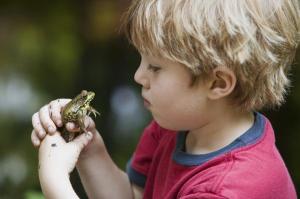 Down by the river
where the stones glisten like gold
brave boy reaches for his prize.

Ignores the sparkle
pulls forth a treasure indeed
A new friend, Kermit the frog!!!
Writing Prompt
Write a sedoka poem. A sedoka consists of two unrhymed three-line stanzas, each with a syllable count of 5 - 7 - 7.
Often these stanzas go at the same subject from different perspectives, but that is not a requirement.
© Copyright 2021. Susanjohn All rights reserved.
Susanjohn has granted FanStory.com, its affiliates and its syndicates non-exclusive rights to display this work.