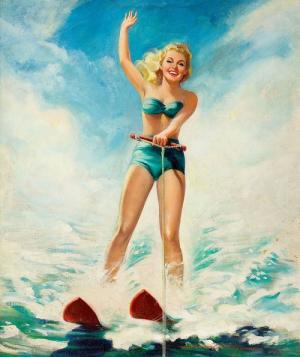 Way back in nineteen eighty two
I was looking for things to do.
Oh, I thought I was just so cool!
Party's all summer, breaking rules.

Took a long drive with a girlfriend
CUTE boys at beach; We did attend!
We took a boat out on the lake
Water skiing? I could just fake!

That boat took off like a speed jet
Waves smacked me! I'll never forget
Now this story will take a dive
(A couple guys, my friend revived)

Wardrobe malfunction had occurred
bikini flying was a blur!
Water skiing is not for me
now those cute boys just won't unsee.

Years have past, we are all good friends
reminding me will NEVER end!
Learned my lesson, now double knot
A true story, funny but NOT!