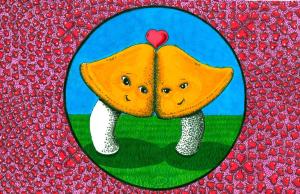 Now Suzie was a sweet, young thing
while Tommy was a hunk.
They met across the yard one day
while staring down a skunk.

Miss Suzie loves Sir Tommy with
a love that will not die.
'Though others tell her she's a fool,
she stares and asks them why.

They say he's from the other side
where she does not belong.
Therefore, the meetings by the two
should really all be wrong.

Because she's birthed in soil that's rich,
expensive and alive ...
while he's from ground that's hard and moist
and really is a dive.

She swears they'll be together in
the darkest place they'll find;
and they'll have little Toadshrooms just
to blow their parent's minds.

She's still a tiny, sweet, young thing
and he's one of the boys.
They are the garden version of
the Hatfields and McCoys.


Author Notes
MKFlood thank you for permission to use your picture.