stormwolf2
: I'm speechless at this wonderful award and I want to thank all those who voted for me, from the bottom of my heart. I'm truly honored as it means so much. I've been nominated several times, and to actually win, book of the month is more than I could have dreamed of. Thank you one and all.

Deejharrington: congrat! About time you got the rewards of your wonderful writing! deb -
Tellis: Congrats! You deserve it. -
CALLAHANMR: Congratulations, Malcolm. You earned the award.

Roger -
Mountainstar2: I am very proud of you and your writing ability. Blessings to you always. I look forward to seeing more of your work, especially the ones of the wolf..

MOuntainstar2.. -
nora arjuna: you should get an award for most interesting profile as well. just browsed thru' the whole page and noted the proposed book cover. was it 'that' story? i didn't realise the others are there too. congrats all!
-
HAWordsmith: A little belated, but congratualtions on winning the book of the month! You definitely earned it. :) -
Pacinogal: Congratulations on winning that beautiful award for first place
winning the book of the month!! -
Vladilynn: Congratulations!!!!!! You deserved it!!!

Lynn:0) -
Amfunny: A BELATED HAPPY BIRTHDAY TO MY FRIEND, MALCOLM. Sorry I missed it, but wish you nothing but the very best. Appreciate you, my friend. :) -
stormwolf2: Thanks, Norma, I really appreciate it. Thank you! :-) -
Mountainstar2: I would have voted for you, if I had been around. Blessings...MS2.. -
Tellis: Congrats on your award. We haven't heard from you for a very long time.
-
stormwolf2
:

You can tell by her eyes, she's just woken from a deep sleep. Lol.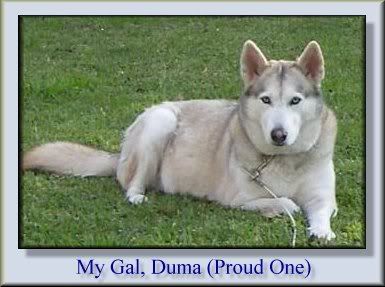 adewpearl: Your gal is just plain stunning!! -
nora arjuna: In second place finished Moments of Relief by arjuna. In third place finished Adios, Mr. Jinx by stormwolf2.

Congrats to us!! And thanks to voters! -
Wild Flower: Ha! I was actually coming by to see if you had posted a picture. She's gorgeous! And obviously well loved. Thanks for posting the picture. -
sibhus: Is she a Siberian Husky -
stormwolf2: Hi Sibhus, Yes she is a Siberian Husky Wolf cross. -
Pacinogal: Duma's so beautiful. She looks really fine in this picture -
Vladilynn: I'm so jealous with your page my dear friend!!! Nice Porfolio!!! Love much :0) -
Wild Flower:

Thanks Malcom! Glad you stopped by. :-) -
Wild Flower: Wow! That is way bigger than I thought! Yikes! -
stormwolf2
:

With love to everyone on FS. Happy Valentine's Day!




adewpearl: Are you the biggest softy or what?
-
Sue-z-Q: Inside your ruggedly, handsome exterior lives a tender, loving heart. -
Pacinogal: Love the kiss part and him smelling the rose. So sweet.
-

Suzie B: I'm cheering...the parrots are cheering, I haven't forgotten about the next challenge by the way...hmmm...might wait and take a look see at Big Trouble in Little Whiskey, then I'll set the challenge...sound of evil laughter and parrots swearing fill the room...mwahahah..
Sooozers. -
stormwolf2: I'm waiting. You are so funny, Suzie. :-) -
Pacinogal: OMG He's back!!!!! and ready to gol!!!!! So am I. Bring it on!
It it's as good or better than the last one I'm set for hours of adventure and entertainment :) -
Chalice: I can't wait hehe. Love the writing and I am a sucker for a good western. We get to see it first:D -
stormwolf2
:


A Big Thank You to everyone that has supported this story. I appreciate it.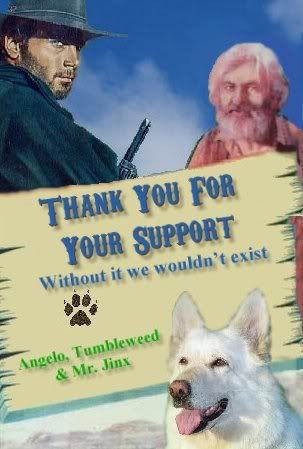 joan marie: I am so looking forward to this new book. joan marie -
Pacinogal: I'll always miss the first book.
But I'll love the new, too.
You've always got my support. -
stormwolf2
: For those authors that were chosen for the Western Anthology, your work is now in the process of being edited.
Completed stories so far.
1. Jesse, Pony Express Rider by dportwood
2. Railroading Lady of Deadwood by Kentucky Sweet Pea
3. Sundown by Stormwolf2
4. Sugar Candy ... She Ain't! by Suzie B
5. Railroading Lady of Deadwood by Kentucky Sweet Pea
6. The Fastest Gun by C. Lucas
7. The Heart of the Wolf by D M. Jones
8. The Prospectors by Ensiferum
9. Curse of the Black Elk by Jason Inman
The book is now in its format stage.
Good news everyone! David Whitehead has just got back to me with his review on the first two stories submitted to him. He has nothing but the highest praise for our efforts. I can't wait to read his introduction. I just know it will be astounding and you won't be disappointed.


This is a rough draft of the proposed book cover




Amfunny: Love your favorite expression. Wonderful advice. -
Pacinogal: The rough draft of the book looks really nice & professional. -
Suzie B: Rough draft looks great malcolm.
I love the title as well.
am so excited about this project.
Suzie -