ABOUT
BEGIN AGAIN
Begin Again is a resilient "senior citizen". Reinventing and restructuring her life has become almost common place for her.

I love music, books, and sitting by the water. Each of these activities brings a sense of life to me.
more...
She is an accomplished script writer and is currently at the #10 spot on the rankings.
Portfolio | Become A Fan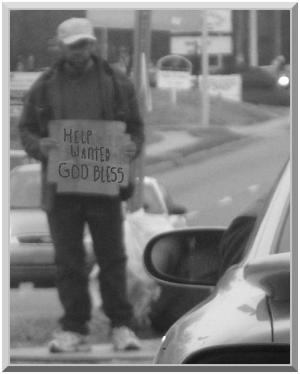 "Good morning, Sunshine."

Sunrays filtered through the gaps between the towering buildings, adding warmth to the backstreet alley I currently called home. Stretching and twisting my pretzeled body, I slowly worked out the kinks from sleeping curled inside a cardboard box.

After two tours in Iraq and the death of my best friend, I'd struggled hard after returning home. I'd tossed a few of my belongings in a duffle bag, left a note apologizing to my family, and left all remnants of my life behind. At first, I just prayed I'd die, but lately, even though I wasn't living the life I'd planned, I was happy to be alive. On the streets, I'd discovered friends and the desire to live again.

"Thank you, God, for another beautiful day."

Taking a deep breath, I filled my lungs with air. Coughing, I remembered too late where I was. Garbage cans lined the trash strewn alley, a mecca diner for cats, and sometimes, the homeless.

The delicious aroma of freshly brewed coffee and baking pastries wafted past my nose. The familiar creaking sound of the back door of Shanghai's Bakery was music to my ears. Grabbing my duffle bag, I briskly walked toward the small figure in the opening. After completing his usual ritual of bowing and chattering what I assumed to be good morning in Chinese, Chen's smiling face greeted me.

A few weeks ago, I'd rescued his scrawny cat from the jaws of a stray mutt. Unable to understand the man's lingo, I'd just smiled, nodded, and waved goodbye. Every morning since then, he'd stood at the doorway with a styrofoam cup filled with hot coffee and a small brown bag of pastries. What more could I ask - breakfast was served. Chen would smile and nod, I'd return the favor, and then we'd both continue our day.

Today, Juan's pickup truck would be at Eighth and Holland. Truck loads of produce would be delivered to the Mexican Market and they needed workers to unload it. The pay was ten dollars and our choice of discarded fruits and vegetables. Food for a few days. I hurried to meet him.

As I waited to cross the street, a city bus pulled to the corner. The driver waved, "How's it going, Billy?"

"The good Lord's watching over me," I called back to him.

"Can't ask for any more than that." He closed the bus door and continued on his route.

Jogging across the street, I could see a woman exiting a building about three doors down. A dark figure stepped from the shadows and grabbed her. As her terrified scream reached my ears, I was already running to her defense, never thinking about the consequences.

The knife wielding attacker released his victim and plunged his blade deep into my stomach. A searing pain coursed through my body. For a split second, our eyes met, and then I crumbled to the concrete as blackness encompassed me.

Moments later, I was leaning against the wall of the building, standing side by side with my best friend, Jack. Tears glistened in my eyes. I choked back my emotions. "Hey bud, it's not that I'm not glad to see you, but I must be losing my mind. Uh-"

"No, it's me, Billy." His familiar face beamed at me.

"You can't be! This isn't happening."

"You're in trouble. That's why I'm here."



"Uh huh … this is crazy. You died in my arms. I can still hear your last words-"

"Yeah, I remember. I said I was going home."

A cold chill surrounded me. Not knowing what to think, I twisted my head left and right, trying to remember where I was and what had happened. My eyes dropped to the lifeless body lying on the sidewalk. His identity registered and I gulped.

"That ... that sure looks like me. I'm bleeding." I stood in disbelief, unable to move. "Why isn't anyone helping?"

People passed without stopping, gawking at me. Two women edged by, clinging to the building to avoid my body.

"Yuck, a stupid old drunk." One shook her head in disgust.

"Is that blood, Sandy? Maybe we should help him."

"Naw, it's probably some cheap wine he stole. Come on, let's get out of here." They quickened their steps and continued down the walk.

One man came out of a nearby building and took a cell phone photo. Another leaned over and vigorously shook me. Neither one called the police or tried to save me.

Dumbfounded, Jack and I watched a series of people walk by, look and turn away. Not one tried to help.

Finally, ninety minutes later, sirens blared and a squad car pulled to the curb. The officer felt for my pulse.

"Call this one in, Hank. We're too late for this guy." He scanned the block, wondering if anyone had seen anything. Sighing, he muttered under his breath, "Sorry, old man. I don't know what this world's coming to."

I stood watching in disbelief. Gray clouds covered the sun and a gentle mist began to fall.

"My mom use to say the angels were crying." I wondered why that thought had popped into my mind. She'd died over a year ago.

"She was right, pal." Jack wrapped his arm around my shoulder. "Let's go home. She's waiting for us."


My Life As A Ghost contest entry

Author Notes
Thank you Loyd for the use of your poignant photo...It says it all.

My mind generated this story after watching a dispicable news report of a man left to die on the street while people walked by without helping. I hope they have a good explanation when God asks why.

Pays one point and 2 member cents.
© Copyright 2016. Begin Again All rights reserved.
Begin Again has granted FanStory.com, its affiliates and its syndicates non-exclusive rights to display this work.