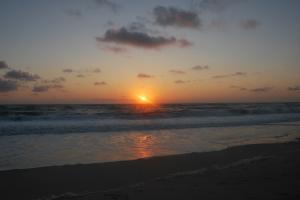 I haven't ventured to the beach this winter,
But my creative spirit needs the spur
That kicks my brain from left to right of center
And far away from all those thoughts of her.

I'll write about the shore, or tire tracks
Of fishermen in trucks and SUVs,
which bounce along with rods on luggage racks
en route to cast their lines in frigid seas.

I never go to fish; I'd rather stroll
Along the empty strand to synchronize
The madly-swirling currents of my soul
With roaring breakers as they form and rise.

I'll watch the waves roll in, and fret about
Confessional displays of earnest thought,
The formula for forcing demons out,
And how such storms are how a verse is wrought.

I think I've been too eager to allow
My innermost emotions their escape
By writing of my life, and showing how
A poem is conceived, and finds its shape.

I'll settle on the sand, absorb the day,
And scribble what I see within my reach,
Then maybe thoughts of her will drift away
Beyond the waves collapsing on the beach.